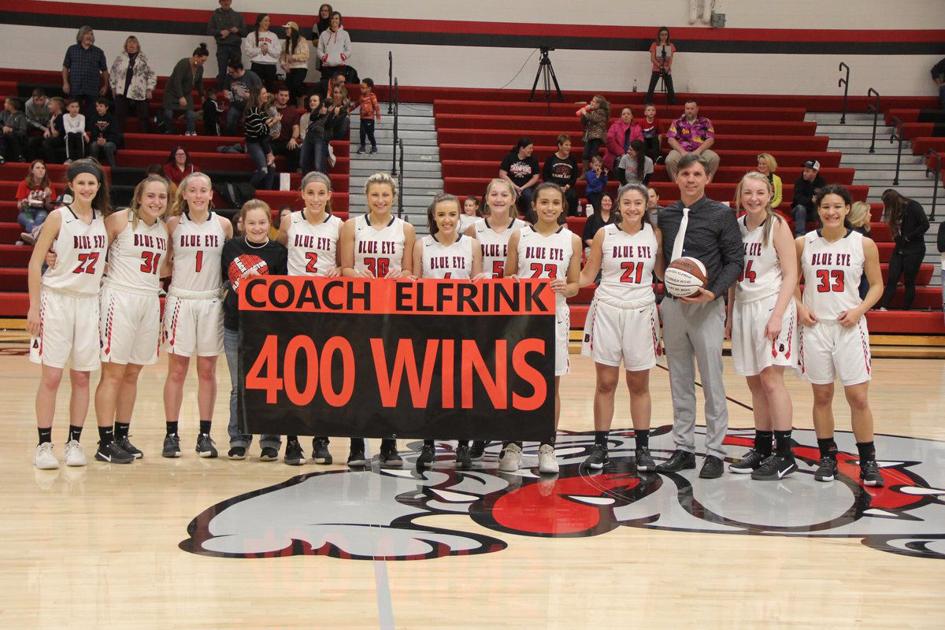 Blue Eye girl's basketball head coach Ken Elfrink ended this year's regular season with his 400th career win.
Elfrink has spent 25 years at Blue Eye, 22 of those have been spent coaching the girls' basketball team. Though 400 wins is a big accomplishment, Elfrink said the credit goes to the teams he has coached through the years.
"To get to that amount of wins, first of all you've got to be somewhere for a while and you've got to do it for a while," Elfrink said. "Secondly, you've got to be blessed with good kids. At Blue Eye, I've had good kids all the way through."
Elfrink said he's been building the program up since 1998 or 1999, and he's been fortunate enough to have a lot of good kids come through the program.
"Those good kids set the standard for the next group that comes through," Elfrink said. "It's just kind of evolved into that."
He wrote down the names of 72 or 73 kids he's coached over the years, though he's sure he missed a few. He said certain groups played a bigger part, like a group several years ago that he said had between 75 and 100 wins.
The current seniors have also played a big part in it. In the last four years, the team has had 20 or more wins each season. Starting in the 2016-2017 season, the team went 20-6.
The next year, they went 24-6. Last year, they went 21-7. So far this season, the team is 23-4.
That's 88 wins over four years. He said 400 wins isn't something he set out to do, and it's really not about the number of wins for him as much as it's about the next win.
"It's not about me, it never has been," Elfrink said.
Despite that, Elfrink said he's appreciative of all the kind words and thoughts.
On Saturday, the Lady Bulldogs took a win in the first round of districts. They defeated School of the Ozarks 62-22, and Elfrink picked up his 401st win.
The 402nd win could come Wednesday, as the Lady Bulldogs face Billings for the second time in under a week.
They beat them 69-43 Thursday for Elfrink's 400th win.