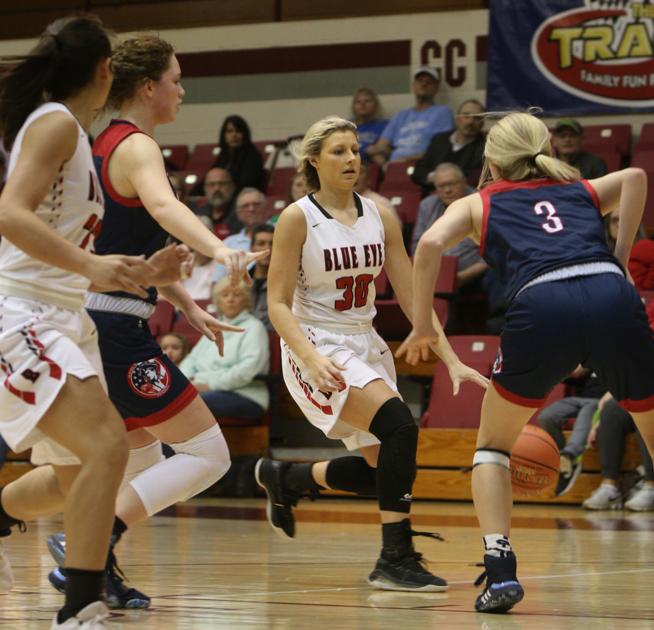 The Blue Eye Girls secured a win in the first round of districts, defeating School of the Ozarks 62-22.
The win followed Thursday's win against Billings, where the Lady Bulldogs came out on top 69-43.
Thursday's win made the team back-to-back Conference Champions, the team finished with a perfect 7-0 record in conference play and head coach Ken Elfrink got his 400th career win.
The team is 23-4 overall and the top seed in Class 2 District 11.
Going into Saturday's game, the Lady Bulldogs knew they were likely to prevail. But they still played hard.
Elfrink said it's important for the team to play at a high level and be consistent defensively.
"I think we did," Elfrink said. "(S of O) has got some pretty good athletes, and I think we did a pretty good job of taking away what they do."
Elfrink did say he didn't think the team shot it as well as they normally do, but he knows that is going to happen in big games such as the first game of the district tournament.
"We're capable of putting up points," Elfrink said. "I told them 'we're going to be able to score because we've got enough kids around.'"
And they did, though it may not have been as many as usual.
Three Lady Bulldogs put up double digits on the board. Senior Kohnnar Patton had 23, sophomore Riley Arnold followed with 14 and sophomore Avery Arnold finished with 13.
Elfrink said the game was a good way to start off districts.
The Lady Bulldogs return to Keeter Gym on College of the Ozarks' campus Wednesday at 6:30 p.m. to face Billings once again.
"(Billings) played real good (Saturday)," Elfrink said. "They shot it real well, they're playing real well. We'll have to be ready come Wednesday."