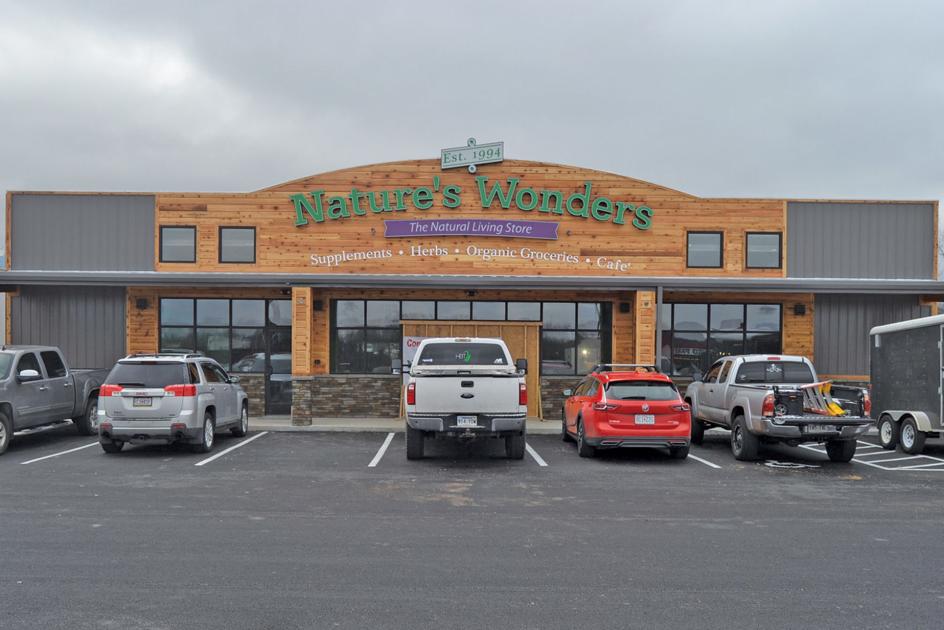 Area residents will soon have daily access to fresh organic produce, as a new full-service natural foods store prepares to open in Branson.
For nearly 26 years, Nature's Wonders has been serving the residents of Harrison, Arkansas, and soon they'll be serving the residents of Branson from a new store on Highway 248 as well.
Nature's Wonders co-owner Michelle Rost said her husband's grandparents originally purchased the store from a lady who had owned the business since the 60s.
"So they bought it and made it Nature's Wonders in '94 and had it in the original location, which was in a smaller building in Harrison – about 1,900 square feet – for 17 years. During that time, my husband's Dad became involved in the business, my husband (Chris) when he was old enough, and then me when we got married," said Rost. "In 2010, my husband's grandpa passed away, and that was kind of a turning point, like, where do we go from here? He was the foundation of the whole company, and he took care of so much."
Rost said that at that point they decided to rally together to keep the business going and growing, so in 2011 they moved into a larger location in Harrison. After doing research and visiting with locals, Rost said they knew they wanted to open a store in Branson.
"We do get a lot of customers from Branson, and that is one of the reasons that we chose Branson for our second location. Also, we just love Branson. My husband and I live in Hollister now, and we love this area. In so many ways it's similar. It's the Ozarks, and it just feels like home," Rost said. "It was tricky finding a location. Branson's tricky that way, knowing where's going to be convenient for local people, and where will tourist find you? But we know for sure that locals are who we need to be convenient for, and that's the main priority."
Compared to the Harrison store, Rost explained that their Branson location will be a little larger. With the extra space, Rost said that they'll be able to offer a few more products and have more room to display products.
"We've got a full selection of organic groceries, natural groceries, restricted diet items like gluten-free, keto, paleo and those kinds of things," said Rost. "It's all organic produce. We've got a large selection of supplements and body care items. We'll have a full espresso bar, just like we do in our Harrison store, with coffee drinks, smoothies, teas and tap kombucha, which is local sourced from Spring Branch Kombucha. So basically a one-stop shop for all of your natural living, healthy lifestyle needs."
Rost shared that for several years now, there has been a strong local demand for the products they offer, which is another reason they felt that building a second store in Branson would be a smart move.
"I feel like people … want to know what's in their food. They want to know where their food came from. They want to ask questions and they want to be informed. As more and more people do that, more and more information is available. Along with that comes a demand for foods that are clean and labels that are easy to read and understand."
With their years of combined experience, Rost said they work diligently to provide their employees with the knowledge and resources needed to assist any customer with questions about a particular product.
"We're not doctors, and we're not health care practitioners, but we have a lot of experience, and we certainly live the lifestyle ourselves. So we try things, and we have a lot of past knowledge and information to base that on," Rost said. "So as we've been training the staff from Branson, and actually we have four people from our Harrison location who've been there for a while who will be coming up here."
Opening day for the Branson Nature's Wonders has been scheduled for March 16. Rost said they plan to have a soft opening, but in time they plan to host a big grand opening celebration.
"Just show us some love when we're open. We'd love to meet everybody and see everybody" said Rost. "We're just really looking forward to it, and thanks for letting us be a part of the community."
Visit enjoynatureswonders.com or follow their Nature's Wonders (Branson) page on Facebook to learn more about all things Nature's Wonders.